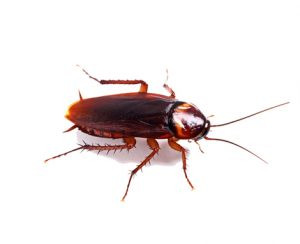 Cockroaches are another frequent pest in homes and commercial properties in Ontario, and is one which we are frequently called in to control - particularly in food production premises and restaurants.
Besides being an unsightly and disagreeable nuisance, cockroaches can be harbingers of disease and may also cause asthma and allergies in susceptible individuals.
They are probably the most successful and adaptable of all insect species, and some claim they may even be the only animal life form that could survive a nuclear war. Due to this, they are often hard to exterminate by yourself.
Cockroaches are likely to set up home in small crevices, cracks in floors, walls, ceilings, in cabinets in kitchens and bathrooms – really anywhere that provides them a dry, safe space to hide during the day and wait for night to come.
They are omnivores, and can feed off just about any scraps and crumbs of foodstuffs that humans eat, as well as many other sources that are more distasteful to us, including toothpaste and glue.
Cockroaches are most active at night, and you will usually only see them during the day when the population is swelling out of control and they need to compete for available food supplies. However, when forced to, they can survive for up to a month or so on just water alone.
They are generally brought into homes and commercial properties in contaminated boxes and other infested containers. Once they are in, they quickly settle into their new homes and multiply.
Female cockroaches lay 1 cm long, yellowish-brown egg capsules which they may carry around for up to two days before 30-40 pale, wingless nymphs hatch out. Nymphs develop to adulthood in two to seven months, depending on warmth, humidity, available food conditions, and other factors.
Imperial Pest Control's expert technicians know that controlling cockroach infestations involves exterminating both the adults and the nymphs before they have time to mature and reproduce. We are confident that our traps, baits and other mechanical means can effectively control and contain your cockroach infestation without the need for toxic chemical pesticide sprays that may affect the health of your family, pets, employees and clients.