FUMIGATION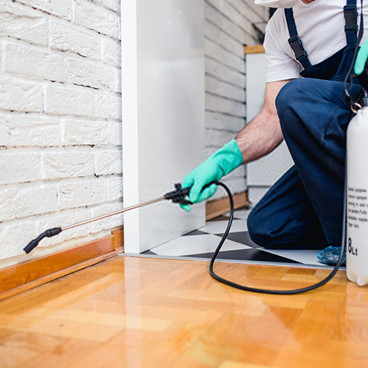 When dealing with large-scale pest infestations, fumigation is an effective way to exterminate them without fail. Fumigation is the process of releasing pesticide gases into the air or soil to kill off any pests or insects in the area. It's a very quick and easy way to exterminate pests, which is why it's great for commercial businesses.
There are different types of fumigation, and the process is customized to fit what it is being used to treat. For example, sometimes fumigation is used to kill off any insects or rodents in farmer's fields that damage crops. Other times, it can be used inside commercial or residential buildings to exterminate any pests or insects infesting inside walls or under floors.
Our Fumigation Services
In commercial settings, this method of pest extermination is a very fast and helpful way to solve your pest problems. There are a wide variety of reasons a business might need to use fumigants in their buildings, fields, and more. Some of the fumigation services that we offer our clients are:
Treating shipping containers.

When businesses ship parcels, they have to comply with certain rules and regulations to make sure that their products aren't harbouring any pests or insects that could travel and cross the border. Imperial Pest Control can help you carefully inspect shipping containers for any signs of pests, and if there are any, we can propose solutions on how we can help you get rid of them quickly.

Vehicle fumigation.

There are plenty of places for pests to hide and populate in vehicles of all kinds, including cars, vans, trucks, and trains. Our fumigation services can help you clear out your vehicles of all kinds of pests that may be hiding there.

Building fumigation.

We can treat interiors of buildings using fumigants to exterminate any pest infestations that may be living under furniture, under floors, inside walls and in cracks.
How We Can Help
Imperial Pest Control can help you make your pests a thing of the past. If you think your business has a pest problem that needs eliminating, or if you have any questions about any of our services, book a free estimate today.